Complete Guide To Buying Real Estate
Panama is the world's top offshore haven and the number-one choice of countless expats, retirees, businesspeople, entrepreneurs, and investors.
If you're searching for the ideal destination to invest, do business, enjoy a retirement filled with benefits and discounts, or try out the digital nomad lifestyle, Panama can't be beat.
What's So Great About This Tiny Country?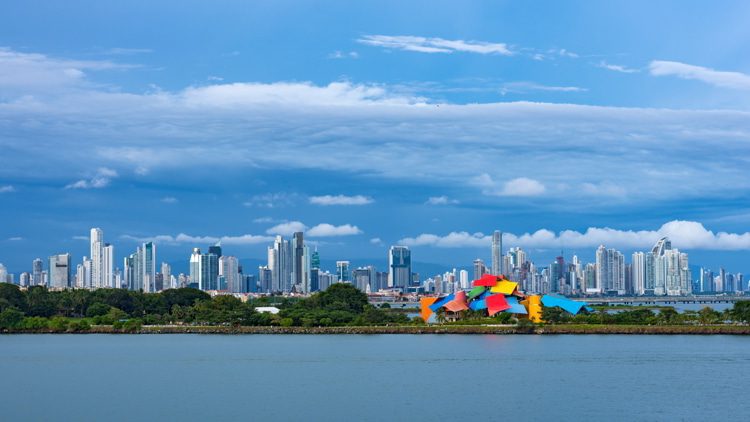 -Panama Is Foreigner-Friendly
The infrastructure is excellent, taxes are only paid on income earned in Panama, there's no currency exchange rate or currency controls to deal with, foreigners have the same rights as locals to hold property title, it's easy to obtain residency, and strong incentives are in place for investors, business owners, and retirees.
-The Economy
Panama also has the strongest and most stable economy in Central America and continues to be one of the fastest-growing economies in Latin America. Its economy rests on a globally oriented services sector, which produces about 75% of the nation's GDP. The Panama Canal, Colon Free Trade Zone, Trans-Panama Pipeline, and Panama City's major international banking center are all contributors.
Panama has been U.S.-dollarized since 1904, which lends stability to the economy and has allowed Panama to become the global-services powerhouse it is today.
-The Lifestyles Available
This is also one of the best lifestyle havens on Earth…
Panama is the only country where you can drive from Caribbean beaches to Pacific surf in just an hour and a half. Its two coastlines are dotted with beaches for every preference—and this is one of the biggest draws here for foreigners.
Many expats and locals base themselves in Panama City and own or rent a beach house in the City Beaches area of the Pacific coast (about an hour and a half to three hours from the capital) to escape to on the weekends or during holidays. Beach properties are among the most profitable real estate investments in Panama.
Panama is home to an attractive real estate market with favorable returns on investment (ROIs), positive real estate capital appreciation rates, little to no capital gains, low pricing (when compared to the States), and a wide range of property options.
Here's an overview of the real estate market in Panama City and considerations for the property investor…
The State Of The Property Market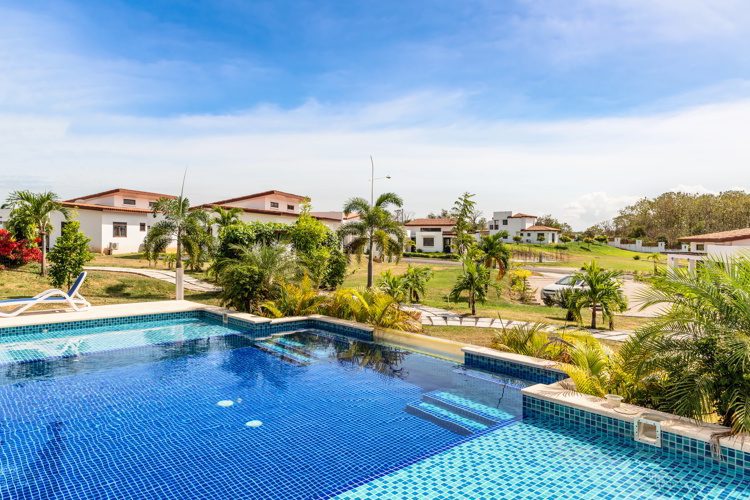 The real estate market in Panama City is at a plateau but recovering. For most of 2021 and 2022, prices dropped and construction and development came to a complete stop for more than a year as the middle class was hit hard by the economic crisis.
In 2022, construction has resumed and sales are increasing. Our sources at Live And Invest Overseas predict full market recovery within two to three years. They're adamant that the time to invest in real estate here is now. As the market recovers, developers are making plenty of sales and doing quite well.
The capital appreciation rate on Panama properties generally sits around 5% to 10% annually, driven up by the influx of international buyers in the market.
The cost of real estate in Panama City ranges from US$1,000 to US$3,200 per square meter. On average you'll pay US$1,000 to US$1,500 for a middle- or upper-middle class project. Luxury real estate will run upwards of US$3,000 per square meter.
Panama City has always been, and now more than ever in post-pandemic times, more of a buyer's market than a renter's market. Buying brand new property from a developer is far cheaper than renting, and banks are eager to give loans to home buyers.
This isn't to say you won't be able to make a profit renting, but you'll likely need to target international renters…
Benefits Of Investing In Real Estate In Panama
Foreigners have nearly the same rights as Panamanians to hold property title. However, foreigners can't own land within 10 kilometers (6 miles) of international borders, and no one (not even Panamanians) can own within 10 meters (33 feet) of the Atlantic Ocean, and 22 meters (72 feet) of the Pacific Ocean as these are federal zones. Untitled land must be owned by a Panamanian citizen for two years before it can be owned by a foreigner.
Panama's Golden Visa is hands-down the best invest-for-residency program in the country. Invest US$300,000 in real estate and you'll be handed the title and permanent residency immediately.
You can also opt for the Friendly Nations program, which gives you a title and temporary residency in exchange for a US$200,000 real estate investment. After two years you'll be eligible for permanent residency.
You can choose to title your property under your name or a Panamanian corporation.
If you're over the age of 55 (for a woman) or 60 (for a man)—no matter what visa you hold—you'll be eligible for discounts up to 50% in a long list of items including recreation and entertainment, hotels, hospitals and private clinics, importation of household goods, airline tickets, prescription medicines, and much more.
Panamanian banks will grant mortgages to foreigners (residency isn't required), but it's a tedious process. The list of documentation you'll need is long, and includes a passport, reference from a bank in your home country, tax returns to prove income, and documents proving the value of the property you're purchasing.
Mortgages for foreigners have a 25-year maximum loan term. You can apply for these if you are under 75 years old. Once you turn 75, you're no longer eligible for a mortgage in Panama.
Mortgages here are usually 70% of the purchase price, and carry an interest rate that's determined by the bank but usually runs about 6% to 8%.
The Property Purchase Process
Once you've located your ideal property, the purchase process follows these steps:
Make a serious offer (your realtor will help you here, but 10% lower than the asking price is an acceptable starting point).
Your realtor will take your offer to the seller, they negotiate, and an offer is made.
A contract to purchase (contrato de compra-venta) is drafted and normally includes an inspection of the property and a re-survey if one hasn't been performed in the last 10 years. Both buyer and seller are represented by attorneys.
Once approved by all parties, the contract is signed and the seller must make a 10% non-refundable down payment (if there's a legal problem with the property, the deposit is declared null and void).
The buyer's attorney researches the property to make sure taxes and other legal matters are up-to-date.
If everything is correct, closing normally takes place in 30 to 60 days.
In Panama, no one is required to be present at the signing. If the buyer isn't in-country, the contract can either be e-signed, or a limited POA can be authorized to allow the buyer's attorney to sign in their absence.
Escrow accounts do exist in Panama, but due to sanctions placed on the country, many attorneys don't have one. Another option is to send funds from your bank account in the States to your Panamanian account. Your attorney will need to send the contract to the Panamanian bank to justify the transaction.
It's absolutely imperative that you hire an attorney—a reputable one. You should gather references for a real estate law attorney who is bilingual and from a creditable real estate agency. If they're not bilingual, you'll need to also hire an interpreter… but this will cost more time and money (although not more than skipping this step).
Throughout this process, the bulk of the responsibility falls on the seller who pays 11% of the sale price to the realtor's commission, lawyer fees, and public registry fees. This figure includes the 2% transfer tax and the 3% capital gains tax. The buyer only pays documentation and lawyer fees.
Closing costs are highly variable, but generally are 1% to 2% of the property value.
Potential Risks
As long as you have someone reliable to guide you, you'll be able to avoid most negative outcomes and disappointments.
Pre-construction developments are the most favorable due to their lower cost, but if you're dealing with a non-credible developer, you risk waiting a long time for your unit. You and your lawyer should verify how many down payments the developer needs to start building before signing any contract.
When doing research, you should check how long the developer has been in business, the size of the company, their reputation, whether or not they own the land they're developing outright, and if there are any co-developers. Our sources say that if your developer is a big company, has a good reputation, owns the land, and isn't working with co-developers, risk is low.
A development that's nearly built or that is being built with financing from the bank is also a more secure option, as it will most likely be finished. Ask the developer for proof that they own the land, and ask your attorney to check the public registry to make sure there are no mortgages on the property.
If you can check all those boxes, the process should go smoothly.
Panama City Properties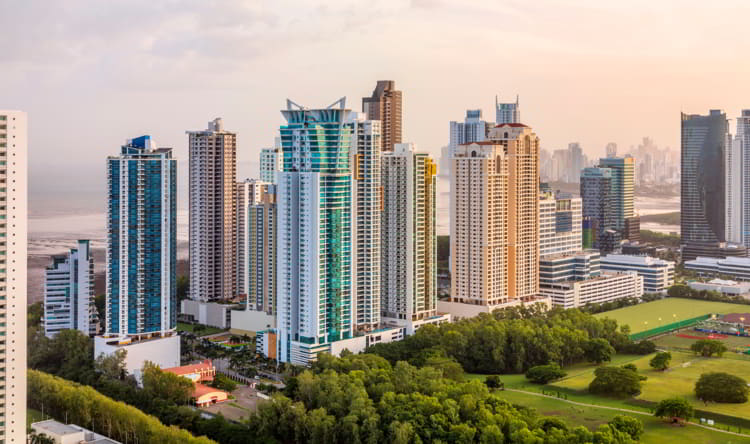 Our real estate contacts at Live And Invest Overseas share that the best places to invest in Panama City are highly variable. They explained that a property's ROI depends on the purchase price, the capital appreciation rate the following year, and the property's cadastral value—this is the value that the Panamanian government assigns to a property in the land registry records. Your property tax rate depends on the cadastral value.
Panamanians and foreigners are both active in the real estate market, but in 2022 you'll have better luck selling or renting to another foreigner. Due to the economic crisis caused by the pandemic, many locals are still without jobs, and financial difficulty is causing the middle class to shrink. You shouldn't discard selling or renting locally, but targeting an international market makes more sense.
That said, these areas of Panama City are popular among foreigners and will get you the most favorable ROI…
Avenida Balboa
Punta Pacífica
Punta Paitilla
Costa del Este
Santa María
One of our sources says that beach properties are the most profitable investment endeavor here. There's an enormous group of tourists and snowbirds looking for part-time beach vacation rentals. New development projects are springing up along the coastline all the way from Punta Chame to Río Hato—the area known as the City Beaches. If you're interested in the City Beaches area, reach out to our contact here.
Investing in a beach property is your safest bet if you plan rent it out through Airbnb. A national law prohibits short-term rentals (including Airbnb) of less than 45 days. Although there are Airbnbs throughout Panama City, many HOAs don't allow units to be run through the website. At the beach, however, this isn't an issue.
Gabrielle Wells
Editor, In Focus: Panama